The Atlantic system passed new performance tests, including flight at 12,000 feet.
The Tucan has participated for the first time in military campaigns executed by GAIL II/63 in León.
Madrid, June 28, 2017 – SCR and everis Aerospace, Defense and Security group company (everis ADS), completed new flights with the Army units under the Rapaz Project, sponsored by the Directorate General of Armament and Material (DGAM) of the Ministry of Defence. The Atlantic UAS has been used in the operations and accumulates several campaigns within this program. The Tucan UAS has been incorporated recently for the first time.
During the tests, jointly conducted during the months of May and June with the Information and Tracking Artillery Group (GAIL) II/63 in the Conde de Gazola (León) Base, the Atlantic UAS reached a new performance test. In this regard, and as directed by the military leaders, the Atlantic RPAS flight reached an altitude of 12,000 feet. Several night flights were also conducted during the operations.
The Tucan UAS debuted in these operations, initiative of the Ministry of Defence. The Tucan is a small UAS, with a take-off weight of 5 kg and a span of 2.73 m. It uses an electric propulsion system with a range of 90 minutes and quick start action, specially designed for ISTAR missions (Intelligence, Surveillance, Target Acquisition and Reconnaissance) missions.
The Tucan features a compact modular lightweight composite material structure designed following the most demanding quality and durability standards. The performance and functionality of the system have been tested in recent campaigns; with a total of eleven flights carried out.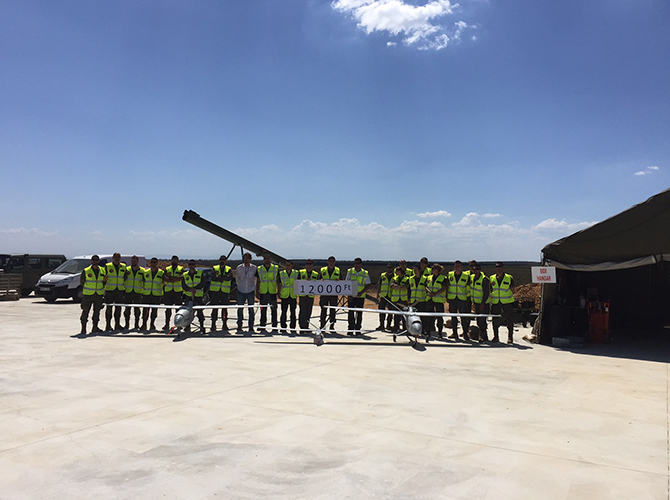 As on previous occasions, members of GAIL II/63 have worked closely with the SCR team, providing recommendations aimed at improving the aircraft. Thanks to the feedback from the Army concerning the use of unmanned systems in Spain, SCR UAS are evolving rapidly, improving their functionality and performance.