SCR and everis Aerospace, Defense and Security (everis ADS) have successfully completed a new demonstration of the tethered ASTER-T UAS to the Military Emergency Unit (UME) in Madrid.
The drone performed an automated take-off, later to stay in the air for about an hour carrying out surveillance activities through the built-in optical sensor—in both visible and infrared mode.
The high-performance camera on the ASTER-T has enabled monitoring and tracking targets (vehicles and people) from a height of 90 meters and in a wide area around the deployment point. Additionally, the thermal imaging capabilities offered by the ASTER-T have been used to inspect the stated area.
Tethered drones offer the unique ability of nearly unlimited flight time, but more importantly, they offer a more cost-effective way to use drone technology. The tethering cable also transmits the video signal, which reaches the UAS ground station safely and in real time.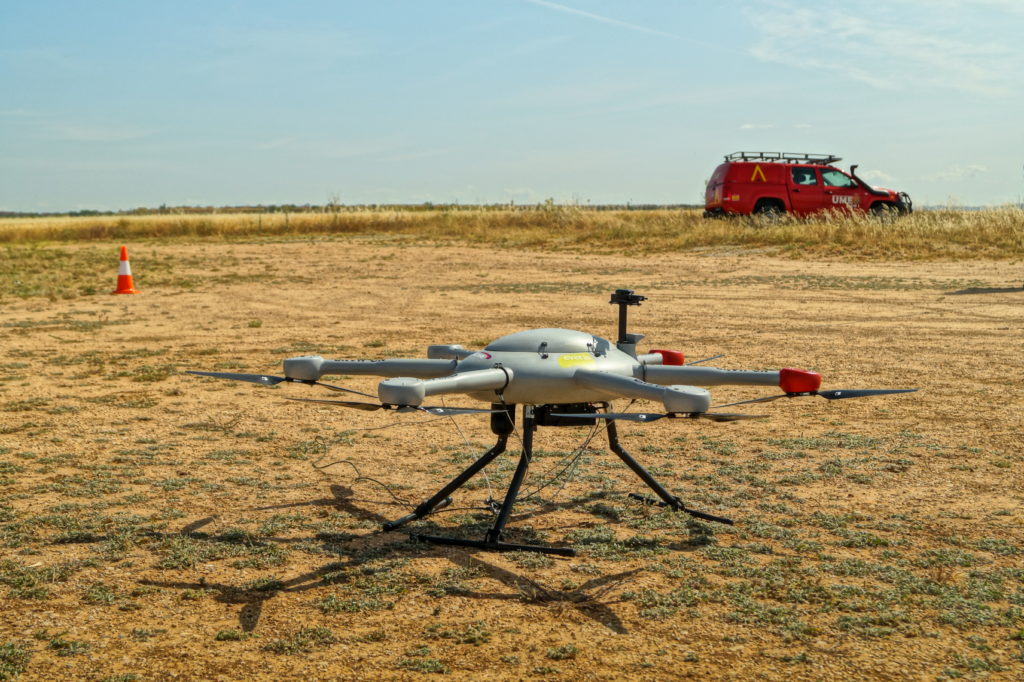 System features
The ASTER-T is a tethered hexacopter offering fast and uninterrupted air cover in large spaces thanks to its constant power supply.  The system is connected to a ground power supply, which guarantees unlimited autonomy.
It also features a fully autonomous autopilot configured for 'tethered' missions and an emergency on-board battery that allows recovery and safe descent if necessary. ASTER-T reaches a maximum height of 100 meters, boasts a built-in thermal and visible spectrum camera with a continuous zoom of up to 40x and allows for secure communication and video download via the tethering cable.
ASTER-T enables a wide range of applications, including crisis monitoring, strengthening public security, rapid deployment of emergency radio communications, asset protection, and monitoring both in private and civil settings.